Recreation
HIKING AND CAMPING - Numerous opportunities exist for hiking as many old logging roads and snowmobile trails exist. People, who want to experience nature at its finest and camp out under the stars, really enjoy the area. Individuals have ready access to trails on Mount Monadnock and Averill Mountain as well as other scenic vistas in the area.
BOATING - The Connecticut Lakes and River, Lake Wallace, Big and Little Averill Lakes and many small ponds provide many opportunities for boaters. If you enjoy sailing, kayaking, canoeing, or power boating, you will find a North Country venue that meets your needs.
SKIING AND SNOWSHOEING - There are many opportunities for downhill and cross country skiing and snowshoeing in Northern Vermont and New Hampshire. The Balsams Resort offers skiing and snowshoeing at affordable prices and Canaan is located in an area that receives abundant snowfall. Free ice skating is also available at the picturesque rink located in Fletcher Park.
SNOWMOBILING - There are numerous snowmobile trails that are easily accessible throughout the North Country. Trails are well-groomed and the Canaan Border Riders club welcomes new members. The club sponsors a number of group activities, during the winter and is recognized for its hospitality.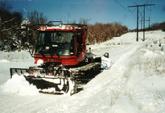 Image Courtesy Canaan Border Riders
BIKE TOURING - Bike touring and off road biking are popular activities in the area. Routes are available that enable individuals or groups to enjoy the beauty of the Northeast Kingdom of Vermont. There is nothing that can compare with a bike ride during the fall foliage season.
GOLFING - There are many fine golf courses within thirty miles of Canaan. The Colebrook Country Club nine hole course and the golf clubs Coaticook and Baldwins Mills, Quebec are superb "tracks" that golfers of all levels will enjoy.
WILDLIFE - The forests, ponds, rivers and natural areas provide refuge to numerous birds and waterfowl, moose, deer, bear, rabbits, beaver and other wildlife. Local residents and visitors have numerous opportunities for viewing animals in their natural habitat. The hunting and fishing in the area is superb and Canaan is recognized for giving people "experiences they will never forget".
GYMNASIUMS - The elementary and high school both have gymnasiums that are used for school events such as plays, art shows, band concerts, craft shows and sports related activities.
LIBRARY AND HISTORICAL SOCIETY - The Alice M. Ward libary and Canaan Historical Society are located in the same building. The library has an excellent selection of reading material, conducts many activities for children and adults and providers access to the internet. The Historical Society meets on a monthly basis, has regular exhibits and is the repository of a wealth of information about the community.
COMMUNITY EVENTS - Canaan is a very active community and there is always something going on. It hosts major softball tournaments the first weekend in August, a Sugar on Snow Social the first Friday in August and the Moose Festival the third Saturday in August. There are church suppers and events, an Art in the Park exhibit and other activities that occur on a regular basis. Although there is always something to do, if you just want to "get away from it all" and relax, then you'll love Canaan.
Site Design: Diana Rancourt
Copyright 2013 - All Rights Reserved