PUBLIC NOTICE
NOTICE OF CONTINUATION OF
ZONING BOARD MEETING
FOR AN RV CAMPGROUND AT LAKE WALLACE
The Canaan Zoning Board of Adjustments
will meet on April 28, 2019 instead of May 5, 2019
at 4:00 p.m. at the Town Office Building
for a continuation of an application by Todd Lambert
to construct an RV campground at 261 Songbird Drive
and 5032 VT RTE 114 in Canaan, VT.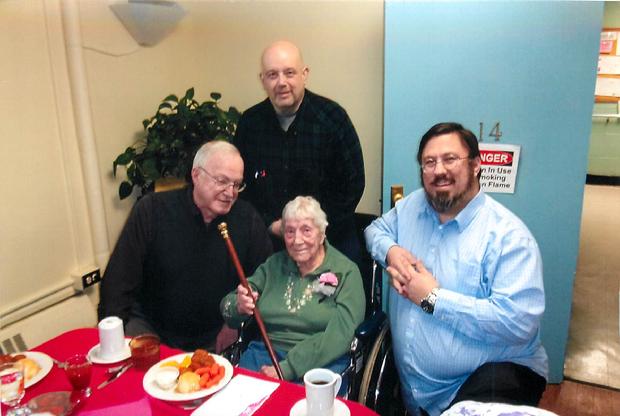 Jane Stevens receives Boston Cane from Canaan Selectboard (l to r) Greg Noyes, Haven Haynes, Jr. Frank Sawicki Jr.
NOTICE TO RESIDENTS

The Canaan Selectboard would like to remind town residents that, despite the best efforts of the town road crew not to do so, sometimes items within the town highway right-of-way get damaged, either by snow removal or other highway maintenance equipment. The town is not responsible for damages obtained within this 25 foot from center of road. The Selectboard is asking that residents beware before leaving or placing objects such as vehicles, fences, trees, signs, etc. within these boundaries. Objects may be removed at the owner's expense.
Gregory D. Noyes, Chairman
Haven L. Haynes, Jr.
Frank T. Sawicki, Jr.
NOTICE

PARKING BAN

Effective December 1, 2018 through April 1, 2019 it is unlawful to park between the hours of 11:00 p.m. and 7:00 a.m. on all streets and roads in Canaan and Beecher Falls (this includes Town Roads and VT Rtes. 102, 114 and 253.)




PUBLIC NOTICE

No person, other than an employee in the performance of his or her offical duties as authorized by the agency of transportation or the Selectboard, shall plow or otherwise deposit snow onto the traveled way, shoulder or sidewalk of a State Highway or a class 1, 2 or 3 Town Highway.

(V.S.A. T.23 Section 1126a.)



The Town of Canaan is a picturesque community located on the Connecticut River in Northeastern Vermont. It is bordered by New Hampshire and Quebec and many consider it to be the "real" Northeast Kingdom of Vermont.
Canaan is a great place to live, work and visit. Its current population of 972 is primarily employed in the tourist and logging industries. During its 225 year history, Canaan has provided its inhabitants with superb water and sewer service, roads, schools, libraries and recreational and cultural activities.
People in Canaan take pride in their independent nature and "can do" attitude. The myriad of activities (moose festival, softball tournaments, sugar on snow social, fall festival, art in the park exhibit, historical society, parades, variety shows, dances, American Legion functions, church suppers, etc.) conducted by members of the community demonstrate that given a task they will successfully carry it out with a high degree of confidence and professionalism.
Selectboard Meetings
Every other Monday of the Month
School Board Meetings
Every other Monday
Opposite Selectboard Meetings
Site Design: Diana Rancourt
Copyright 2013 - All Rights Reserved